More than ever before, data-driven marketing plans are proving to be invaluable for leveraging the insights you've gleaned during the past several months or year, and the latest promotional products can help. After all, that's what will drive your marketing strategy: a plan that gets results because it's based on your customers, your goals and your data.
But where does this data come from? And how do you even begin to use it? In this Blue Paper, we'll explore some tips for identifying the information you have at your fingertips that will help drive your future marketing strategy. Let's get started!
Data and marketing: the undeniable value of annual planning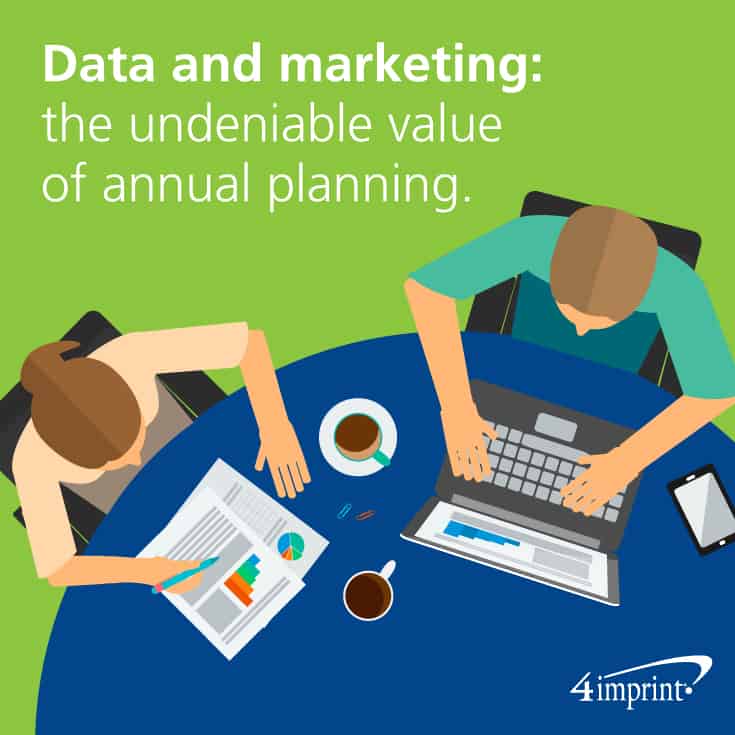 The question of how to spend your promotional budget is a big one, and it can feel overwhelming, particularly in those moments when you're facing a deadline. A thoughtful, well-planned strategic approach can really take the pressure off to help you feel confident in your choices.
That's where annual planning comes in. If you haven't had time to do annual planning in the past—don't worry! You're most certainly not alone. It's an approach worth considering, one which can really help you engage customers at a key touchpoint. Even better, with annual planning, you can say goodbye to the stress of—surprise!—running low on budget mid-year, just when you need unique promotional products for conversation starters at a trade show.
Admittedly, knowing which tactics will give you the biggest return on your investment is tough. After all, there are so many ways to spend your marketing budget. Should you focus on online marketing and social media? What about mainstream media: newspapers, radio or television? What about the classics: brochures, billboards and flyers? Or, the new wave: apps? And where do the latest promotional products for events, trade shows or other customer touchpoints fit in?
It can be overwhelming, which is why placing the pieces carefully will help ensure you have even more of that rich data you need to put together a killer plan.
The rearview mirror: reflections on marketing at the micro level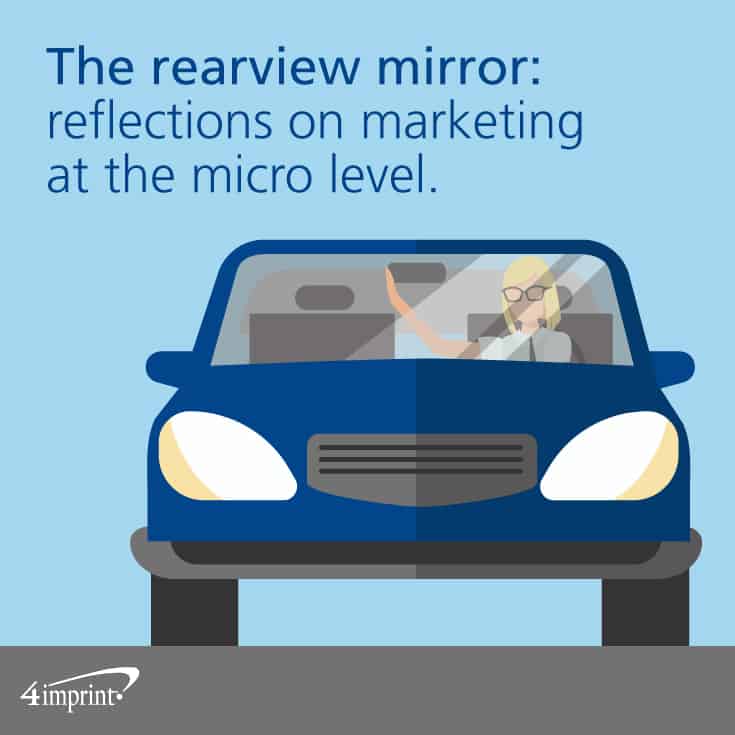 It's time to take a look back at the highs, the lows and everything in-between on your marketing calendar. As you review your marketing efforts over the past year, to what degree did they help your organization accomplish its business goals? Did they achieve your marketing objectives? This overview is great, but you'll want to get at the micro level to make the most of your learnings.
Most importantly, you'll want to ask yourself this key question: How well did specific tactics perform among your target audience?
This is the sweet spot where data can help you formulate next year's plan and make truly informed decisions about where to focus your marketing and promotions resources. Even if you don't think you've sufficiently tracked outcomes and findings along the way, it's possible you have a lot of untapped knowledge at your disposal. (Pro tip: If you notice gaps, this is your chance to close them with your marketing strategy, so you have even more data a year from now!)
Here are some tips to identify the data you have, so you can use it to choose your direction for the coming year.
Leveraging data in your strategic marketing planning process to drive sales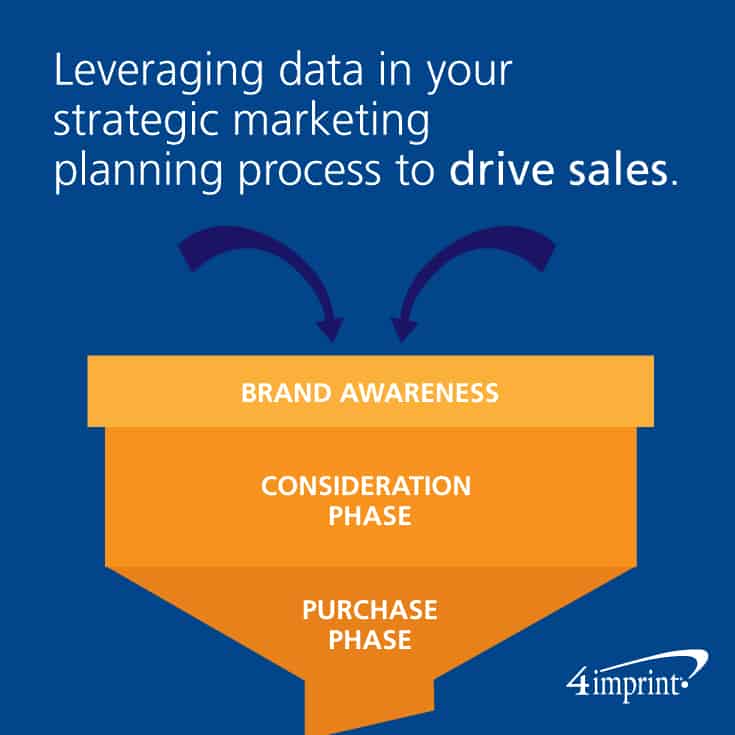 Capturing data throughout the year is essential to support your marketing goals. But where to get started? Let's begin with the traditional purchase funnel.
The purchase funnel is a model of your customer's journey: from the first time they gain awareness of your brand, move through the consideration phase, and finally purchase your product or service. Here's where your sales staff can provide qualitative and quantitative research for your plan development. By collaborating with your sales team, you can find out what matters most to move those valuable leads through the purchase funnel.
How can you leverage data to inform your marketing strategies to drive customers through the purchase funnel? Here are three ways.
Brand awareness
Meet Andrea Lewis, event and marketing director for Adams Publishing Group LLC, or APG Media of Ohio. The organization oversees publishing for 63 community newspapers, 18 advertising shoppers, 20 specialty publications and 81 affiliated websites. Many of the group's publications are community newspapers in areas not served by other media, so they are an essential resource for spreading the word about what's happening in those regions. When it comes to effective branding—and how to choose the latest promotional products for events—Lewis is unquestionably savvy. In her role, she helps host about 18 events every year, from community gatherings and magazine launches to large-scale fundraisers. Lewis also plans launch parties for the organization's specialty publications, such as visitor guides or anniversary community books. Finding ways to reach target markets and engage audiences is key to marketing success. So Lewis starts by developing a marketing plan for each event.
"My marketing plan always starts with what's the mission and purpose of the event," Lewis said. "If the purpose is to gain customers, a targeted group, it's very different than if the mission is to have as many people in a small area as possible for a free community event. Starting with that mission and purpose is a key piece. Because you can't start with the giveaway."
Why is this important? By staying grounded in the mission and purpose of the event, she says, you'll be able to choose how to spend your promotional products budget more wisely. Lewis also recommends factoring in audience and audience size. Of course, you want unique promotional products that resonate with your crowd, but you also want to check your crowd size, as that drives budget.
"It puts in motion everything else you can do for that customer, how you reinforce your brand for that customer and how you reinforce the impression of your brand that they take away," she says.
But most importantly, it's important to remember the goal at the heart of it all. The best promotional giveaways remind people about the quality experience and service they had from the company.
"The purpose of the giveaway really exceeds the value of what the item is. For a Mardi Gras–themed party, Lewis ordered custom 14 oz. Mood Hurricane Cups. "So when they're sitting in their pool drinking iced tea, they remember the event, and they think, 'That was awesome.'"  Lewis says, "You want whatever item to have staying power in someone's home, but you want that brand to remind them of the service you gave them that day."
Now that you've taken steps to raise brand awareness, whether through thoughtful giveaways, well-coordinated events or other marketing efforts, what should you measure to determine direction in coming years? Here are some possibilities to consider:
Share of voice—This is an online advertising practice that limits the number of ad spaces on a site, known as "ad noise," to increase the likelihood a particular ad will be seen by target audiences. What is your share of voice where you advertise online?
Brand recall—This is a measure of consumer opinion on how well your brand name is connected to the product or services you provide. It is frequently measured through interviews or surveys. Have you explored recall for your brand?
Email open rates—When you send out group emails, do you track open rates as well as other engagement, such as click-throughs? This can give you a good handle on how effective this channel is for engaging with your target markets, whether you should continue to invest in it or if it's time to explore other options.
Website traffic—Your website traffic analytics can give you great insights into what your target markets want and how they go about finding it. There are various web traffic tools—some paid, some free—that provide you with a wealth of data. Depending on the data you find most valuable for your strategic marketing plan development, it may be worth a monetary investment to get even more specific for quality data.
Social media engagement—Ever wanted to be a fly on the wall? Here's your chance. Through social listening, you can track conversations that include phrases, words or brands you've identified. From there, you can extract insights from social conversations and apply them to your marketing strategy. Themes and trends emerge in ways that are easier to understand. Just imagine what you could "overhear" to change your approach, or validate what you've suspected all along.
Advertising impressions—When you advertise, particularly online, the outcomes can seem nebulous. When you track advertising impressions, you get a better picture of the reach and impact of your online advertising. What kind of impressions are your ads getting? Is it time to tweak that strategy for greater impact?
These represent just a few of the ways you can gather data about your customers and your brand to hone your marketing plan for the coming year.
Lead generation
In the world of sales, the outcome of the marketing efforts point to lead generation. So what could you measure to get that data? Here are some possibilities.
Customer Relationship Management (CRM): A CRM system allows you to keep tabs on your organization's interactions with customers and prospects at every touchpoint. The goal of CRM is to improve business relationships by gathering data about customer history and retention, but this same data can be applicable and valuable to your promotions and marketing strategy.
Sales data: Sales and marketing analytics and trends give you a peek into the future. For example, check out "The Ultimate List of Marketing Statistics," from HubSpot.com, which has so much data on SEO and consumer behavior, you'll feel like you won the data lottery. If you knew B2C companies that blog more than 11 times a month got more than four times the leads of those who blogged half as much, would that change your marketing strategy related to blogging? What if you knew four times as many customers would rather watch a video than read about a product? Mine sales data like this for new ideas and emerging trends, and watch for signs that some marketing channels are fading.
Website leads: Your website should be working just as hard to generate leads as your sales staff, if not harder. But how is your conversion rate? A conversion audit could tell you whether there are problems or shortcomings you might want to address before your next marketing campaign. Then you can focus on strategies to raise that conversion rate itself.
There are many other lead sources to consider as well, depending on your product or service line. You may want to look carefully at all lead generation sources to determine what data is available and what data you'd like to access to move forward. Remember the key when pulling data related to lead generation: Determine how your marketing strategy is making an impact by driving leads through the purchase funnel to the sale. Use data on outcomes to further hone that strategy.
Customer sentiment
To get a handle on how customers feel about your brand, measure customer sentiment. What does that mean? Every decision a consumer makes in relation to your brand has an emotional state tied to it, and by tracking customer sentiment you can understand at least three metrics to factor into your marketing plans.
Customer Satisfaction: how happy the customer is with your product or service.
Customer loyalty: how likely the customer is to shop again or to recommend you to a friend.
Engagement intent: how likely the customer is to engage with your brand in the future. 
What should you measure to determine customer sentiment? Consider the following.
Net promoter score (NPS) and overall customer satisfaction: Word-of-mouth recommendations are the most effective way to gain new customers. Are you measuring how likely a customer is to recommend you? NPS offers a measurement of customer loyalty, a strong indicator of how you will measure up compared to your competitors. With NPS, you can learn: whether customers are referring business to you; whether they are passive, but satisfied, and could be won over by the competition; and whether they are detractors (unhappy and potentially damaging to your brand).
Social media: Social listening technology is important. You'll want to monitor conversations to gauge reactions to campaigns, shares and mentions, the comment velocity and the tone of comments.
In-app ratings: If your brand has an app, customer reviews and ratings prompts throughout the app experience can help you monitor the pulse of your target market.
Direct customer feedback: How do your customers engage with you directly? Are you using that to track your customer sentiment?
Customer retention: Being aware of customer attrition rates, knowing when and why you lose them, and understanding how that fits into the big picture is data that can influence your marketing (if not operations and sales) strategy in coming years.
Gathering even more data for your strategic planning marketing process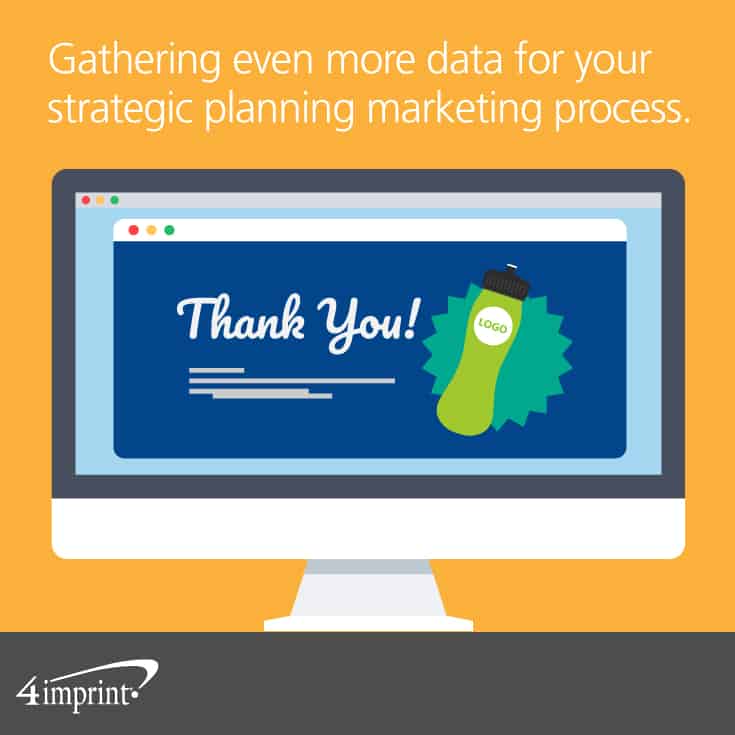 Now you know about multiple channels for mining data. But what if you still have unanswered questions? And what if the answers to those questions would change the direction of your marketing strategy completely?
Brendan Ley, brand manager at auto detailing specialists Detail King, said his company recently made a change to gather more meaningful information from customers. While they had offered customers a three-question survey at the end of the purchase process, the data they were gathering wasn't helpful. It was time to regroup and gather some usable data.
"We added more questions about social media, and did it affect their purchase, so we know where they were coming from," Ley explained. In addition, they incentivized customers to complete the brief survey, offering them one of the latest promotional products, a free custom Dual Bottle Opener Key Light for their time.
"It was something that we thought, maybe it will work, but it actually turned out to be a lot better than we expected," Lay said. "We were really surprised by how many people started answering it." Lay estimates as many as half of the customers responded by filling out the survey. "It's definitely changed how we are doing things. Now, we wouldn't think about not giving out a gift with a survey."
The resulting data has had a direct impact on the organization's marketing efforts.
"We've noticed with the responses we've been getting, a lot of the people that are making purchases either for the first time or trying things they haven't purchased in the past, are people that are watching YouTube® videos," Ley said.
Leaders at Detail King could track the customers influenced through their videos as a result of the survey at purchase time. The data helped them refine their marketing strategy to focus on video, a medium which was effectively engaging their target market and driving sales.
"The intel that we're gathering is helping us get sighted in on what we're doing next year: a lot of video and segmentation to specific interests of people," Ley said. That includes video advertisements and videos for their social media platforms as well.
The survey strategy and promotional gift offer have been incredibly successful. But sometimes a marketing strategist just has a few more questions. When more info is needed, Ley says he'll even call customers directly to gather the data he needs. They're often stunned at first, then grateful for the personal touch. Now that's data mining at a micro level! (Not to mention, good PR as well!)
Putting data to work for your organization's marketing strategy
You've poured over the data: the brand awareness, the lead generation and the customer sentiment information. You've examined the trends. You've reached out to customers directly to fill the gaps. You have hard numbers in front of you, as well as qualitative data, to drive your marketing strategy. You're now in a powerful position to create a strategic marketing planning process that's more responsive, more knowledge-based and more in tune with your target audiences than ever before.
When done, you can enter the next marketing plan with confidence, rooted in the knowledge that you've got the numbers to back up your killer marketing strategy, and the latest promotional products to support your efforts. The results are sure to follow.